New website for the «Melbet» bookmaker
Task: to develop a new site with an improved search for bets.
We have been working with the «Melbet» for a long time and are glad to present the third version of their website.
Convenient search
We made the previous version of the site а few years ago. Then «MelBet» had several dozens of betting centers, now they have more than 200 betting centers in 8 regions.
Чтобы решить эту проблему, мы всё переделали:
упростили фильтрацию по городу, добавили возможность поиска города по названию,
добавили аналогичную фильтрацию по региону,
добавили возможность быстрого поиска пункта приёма ставок по его адресу,
карта теперь меняет масштаб в зависимости от этапа поиска.
Vacancies filtering
We added the ability to filter vacancies by the city to make it easier for the user to search for a suitable offer.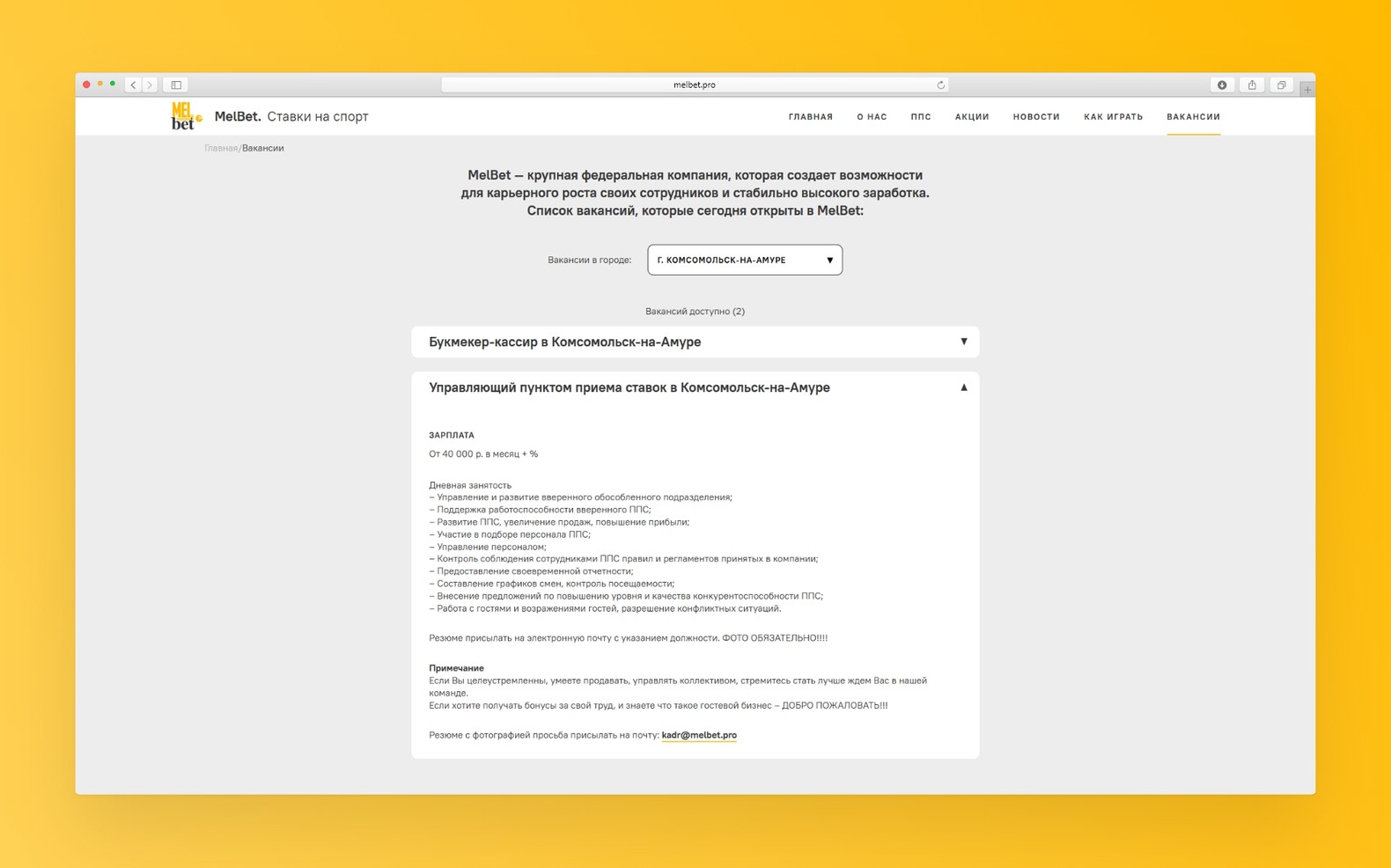 Adaptive design
To use the site from a mobile device is also easy and comfy.
Neat, smart design for mobile devices.
Support
Мы продолжаем поддерживать сайт:
делаем обложки для новых акций и новостей,
исправляем ошибки, если они возникают.
Обращайтесь
Обращайтесь, если вам нужен хороший сайт, который доступно расскажет о вашей компании и упростит жизнь вашим клиентам.
Who worked on the project
Alexey

Управление проектом, разработка концепции

Oleg

Создание дизайна сайта

Roman

Разработка бэкенда, вёрстка и программирование клиентской части

Nikita

Управление разработкой и консультирование